A Children's Multivitamin Comparison
Herrons Vita Minis contain more vitamins and Swisse Ultivite contains some herbs including Nettle, Rosehips and the mild stimulant Siberian Ginseng.
Both the Heron Vita Minis and Swisse Ultivite tables are free from yeast, gluten, dairy products and preservatives.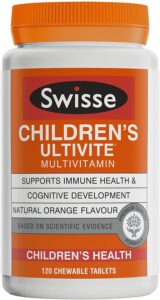 The Herron Vita Minis contain the artificial sweetener Saccharin which does make them slightly more palatable to kids than the Ultivite tablets which contain sucralose.
You can sort the table below by whichever column you like. Please note the units. Some units are milligrams (mg) one-thousandth of a gram and some units are micrograms (μg) or one-thousandth of a milligram (one-millionth of a gram)
Australian Self Medication Industry (ASMI or the non-prescription medicine industry) says if kids don't get enough vitamins in their diets it follows that they would need it from another source. Doctors however are concerned that healthy kids are taking vitamins in lieu of a healthy diet and that advertising suggests to parents that their children should be taking vitamins as a routine part of a healthy lifestyle which they refute – read more on ABC news
| Vitamin name | Vitamin | Childrens Ultivite | Herron Vita Minis | Difference | Units | Source |
| --- | --- | --- | --- | --- | --- | --- |
| Check prices at Amazon Aust | | Amazon Aust | | | | |
| Vitamin D3 | D3 | 20 | 2500 | -2480 | ng | Cholecalciferol |
| Zinc | Zn | 364 | 2000 | -1636 | μg | Zinc Sulfate Monohydrate |
| Folic Acid | | 15 | 90 | -75 | μg | |
| Biotin | H | 30 | 60 | -30 | μg | Biotin |
| Magnesium | Mg | 1.7 | 8.3 | -6.6 | mg | Magnesium Oxide and Magnesium Carbonate Hydrate |
| Nicocinamide | B3 | 10 | 15 | -5 | mg | Nicotinamide |
| Vitamin E | | 4.95 | 8.3 | -3.35 | mg | d-aplha tocopheryl acid succinate |
| Pantothenic acid | B5 | 1.83 | 5 | -3.17 | mg | Calcium Panthothenate |
| Inositol | | 0 | 2.5 | -2.5 | mg | |
| Potassium | | 0 | 2 | -2 | mg | Potassium citrate |
| Riboflavin | B2 | 1 | 2 | -1 | mg | Riboflavin Sodium Phosphate |
| Vitamin B1 | B1 | 1 | 2 | -1 | mg | Thiamin Nitrate |
| Cyanocobalamin | B12 | 3 | 3 | 0 | μg | Cyanocobalamin |
| Pyridoxine | B6 | 2 | 2 | 0 | mg | Pyridoxine Hydrochloride |
| Iron | | 2.3 | 2 | 0.3 | mg | from ferrous fumarate 7.36mg |
| Citrus bioflavonoids extract | | 2 | 0 | 2 | mg | |
| Calcium | Ca | 21.1 | 16 | 5.1 | mg | Calcium citrate tetrahydrate (100mg) |
| Siberian Ginseng | | 6.5 | 0 | 6.5 | mg | Eleutherococcus |
| Ascorbic Acid | C | 50 | 40 | 10 | mg | Ascorbic Acid |
| Nettle | | 10 | 0 | 10 | mg | dry herb equivalent |
| Rosehips | | 10 | | 10 | mg | |
| Manganese | | 163 | 50 | 113 | μg | from manganese sulfate monohydrate 500 mcg |
| Betacarotene | | 500 | 0 | 500 | μg | |
| Additional alergen info | | No added lactose, gluten, yeast, egg or artificial flavours | Free from yeast, gluten, dairy products and preservatives. Contains Saccharin sodium | | | |